10 Ways to Save Money During Winter Break
Here are useful ways you can save money when school's out and have a pretty good time:
1. Throw a leftovers party, that way all the money you spent on food doesn't go to waste!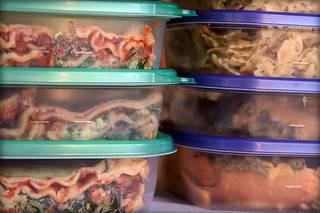 Creative Commons license from armigeress
One tip to remember is if you're planning on throwing the party a few days after Christmas, make sure to freeze everything.
2. Save on snow gear!
There are plenty of places that give discounts to students on snow gear. Be sure to check them out before you pay full price.
3. Host movie nights! There's nothing better than inviting friends over for a movie night.
Not only is it cozier to stay at home, but you also save money on tickets and munchies with home-made popcorn.
4. Travel home for cheaper!
If you're looking for the least expensive way to travel home for the holidays, be sure to try booking (in advance) through Amtrak, Greyhound, or MegaBus.
5. Invite your friends over for potluck dinners!
Everyone chips in and it definitely takes some of the pressure off the host.
6. Explore local venues!
Chances are there that there will be great events taking place during winter break. Just get out there and explore the culture of your hometown.
7. Go ice skating!
If you have a community lake that freezes up during winter break, make sure to take advantage. It's so fun in a big group or as a date activity and it's nearly free!
8. Flash your student ID!
Winter break is a great time to go shopping because the seasons are changing and you have to layer up, but it's important to remember the discounts you can get with your student ID. Don't forget it at home.
9. Spearhead fun outings!
Look on sites like Living Social or GroupOn to help you get good deals while you're home and have some time to relax. There are endless winter activities that are posted and they're all at great rates!
10. Use Uber, ride sharing and carpooling apps to save on gas and transportation.
It pays to leave your car at home. You'll save money and meet new people!