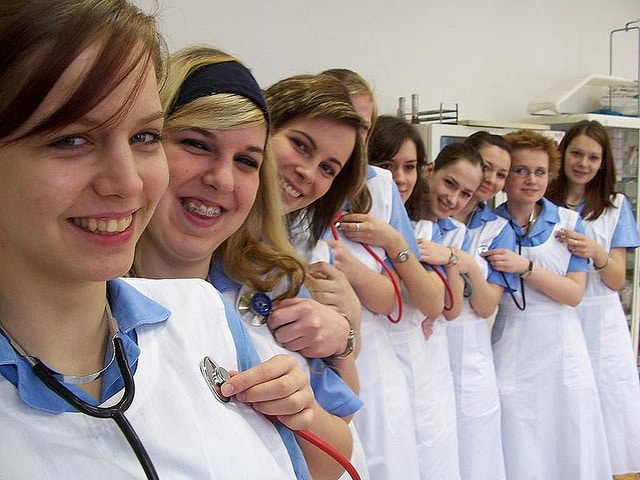 Continued from Part 1
Genesis Health Services BSN Nursing Scholarship
The BSN Nursing Scholarship provided by Genesis Health Services is offered as a forgivable loan, which means you won't have to pay it back as long as you agree to work for Genesis Health Services for two years after graduation. This may not sound like a good tradeoff, but it pretty much guarantees you a job after you get out of school. To qualify for this program, you must be pursuing a BSN at an accredited college or university in Iowa or Illinois. You must have a minimum high school GPA of 3.0 or a minimum college cumulative GPA of 2.5. You must remain in school full time in order to maintain the scholarship.
Award Amount: $10,000
Deadline: March 28
The Stephanie Carroll Scholarship is offered by the National Association of Directors of Nursing Administration (NADONA) in Long-Term Care. It is awarded to nursing students who are enrolled in programs related to long term care or geriatrics. The scholarship is available for undergraduate and graduate students. Applicants must commit themselves to a career in long term care or geriatrics for at least two years after they graduate. The scholarship amount varies based on each student's overall cost of attendance for nursing school. You will have to send in a detailed list of your expenses with your scholarship application.
Award Amount: Varies
Deadline: June 1
The Griswold Home Care Scholarship is offered through a "mission-driven home care services company" near Philadelphia. The faculty was founded by Jean Griswold in 1982 after she was diagnosed with multiple sclerosis. She felt the need to provide affordable healthcare for her community, and now a scholarship lives on in her name. The scholarship is provided for undergraduate nursing students who are enrolled in associate's degree or bachelor's degree programs. The scholarship is awarded bi-annually, giving you plenty of opportunities to apply while you are in college.
Award Amount: $1,000
Deadline: November 1
The National Black Nurses Association offers a number of great scholarships for African American nursing students. Examples include the Margaret Pemberton Scholarship, the Maria Dudley Advanced Scholarship, the Rita E. Miller Scholarship, and the Martha R. Dudley Scholarship. To apply for any of these scholarships, you must have at least one full year of schooling remaining in your degree. You must go to an accredited nursing college, and you must be a member in good standing with one of the NBNA chapters in your area. Award amounts vary by scholarship, so you will need to contact the NBNA to find out which option is best for you.
Award Amount: $1,000 – $6,000
Deadline: April 15
SEIU Nora Piore Scholarship
The Nora Piore Scholarship is provided by the Services Employees International Union. The award is made in honor of Nora Piore, a woman who worked in public healthcare for more than 60 years. The funding for the scholarship is provided by Nora's family. It is renewable for up to two years, which should give you a lot of money to fund your degree. You must be a member of the SEIU or related to a member of the SEIU in order to apply.
Award Amount: $4,000
Deadline: March 1
Nurses of Tomorrow Scholarship
The Nurses of Tomorrow Scholarship from Medical Solutions is offered in honor of Nurses Week every year. It is made for nursing students who demonstrate financial need while they are in school. In order to apply for this scholarship, you will need to write a 250-word essay that answers the question, "What will you do as a nurse to ensure you always provide exceptional patient care?" You must have a 2.75 GPA or higher, and you must be enrolled in school full time.
Award Amount: $1,000
Deadline: May 6